When something seems too good to be true, it probably is. And that is the case with egelinks.xyz. This is one case of a true, genuine, authentic scam. And, this is just one of the many "internet scam stories" out there.
Do not bother with egelinks dot xyz. You'll just be wasting your time, and possibly putting small bits of your personal data at risk.
How to spot a scam website? Internet scam sites can be hard to identify. Let's face it, we see an easy way to maybe earn a few bucks, and we get excited. It's a natural reaction.
Let's go over the details for egelinks. You'll be able to apply them to other "too good to be true" opportunities you come across in the future.
The Boring Website Details
The domain name "egelinks.xyz" was registered on July 25, 2020 and expires after only one year. A newly registered domain can be a red flag, especially if combined with other elements.
The owner of the domain is cloaked. That is, you don't know who owns the domain. Sometimes the owner is active in other ways, so you know who that person or entity is. In this case, there is no way to identify the owner of the site.
The domain is registered in Panama. This is a country that has been known as being used for fraudulent websites.
Generally, domain names that end in ".xyz" are fraudulent sites.
According to scamvoid.net, the website is potentially safe, so no cause for alarm if you have visited.
The Tip Offs – What To Look For In Advance
In addition to the website information above, there are a few other tip offs – that is, things to look for – in identifying a scam.
Obviously, an offer that seems to good to be true.
Ask yourself, how are they making money in order to pay money to you? There should be some indication of a product or service, however small it might seem.
Poor language skills in the tongue being used, in this case, English – not always bad, but a likely indicator
To register, you don't even need to put in an email address (see image below – note that it says it is optional), but it is encouraged in case you lose your password, so most will enter one.
There is no email confirmation of any kind, assuming that you entered an email address. If they sent an email, it would likely lead to an IP address.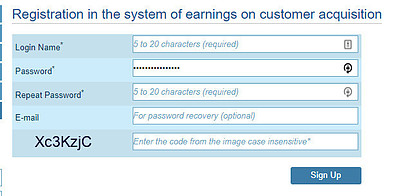 What To Look For If You Sign Up
Changes to the "Rules" – in this case, the "Rules" clearly state that you will be paid after earning just $10, BUT when you go to withdraw, you receive a message that you must have $100 the first time, supposedly so they can be sure you are serious. (Red Flag Here: who wouldn't be serious about getting money for doing practically nothing?)
Changes to the "Rules" #2 – after you have a balance of $100 or more and go to withdraw, you now have to get at least 40 referrals.
Meanwhile, you have likely already entered your desired payment account, or even your bank information!
Excerpt from the "Rules" page:
Of course, after a few days you may notice that the list of "Top Earners" has not changed (see the screen images in the next section)
My personal experience: I gave this a try, and had about $490 in "my account". when I checked a little while later, it was only $30. I submitted a "support ticket". But they don't actually have real support because, well, it's a scam!
PS An associate of mine had a similar experience.
My Comparison To A YouTube Video
I looked at a few videos on YouTube that actually promote egelinks.xyz. I did not find any yet that expose it as a scam – but I'm sure they will come. Maybe I'll even wade in and make one (if I do, I'll post it here).
Here is a screen shot from a video posted to YouTube on December 11, 2020. The shot shows the supposed "top earners" on December 10, 2020.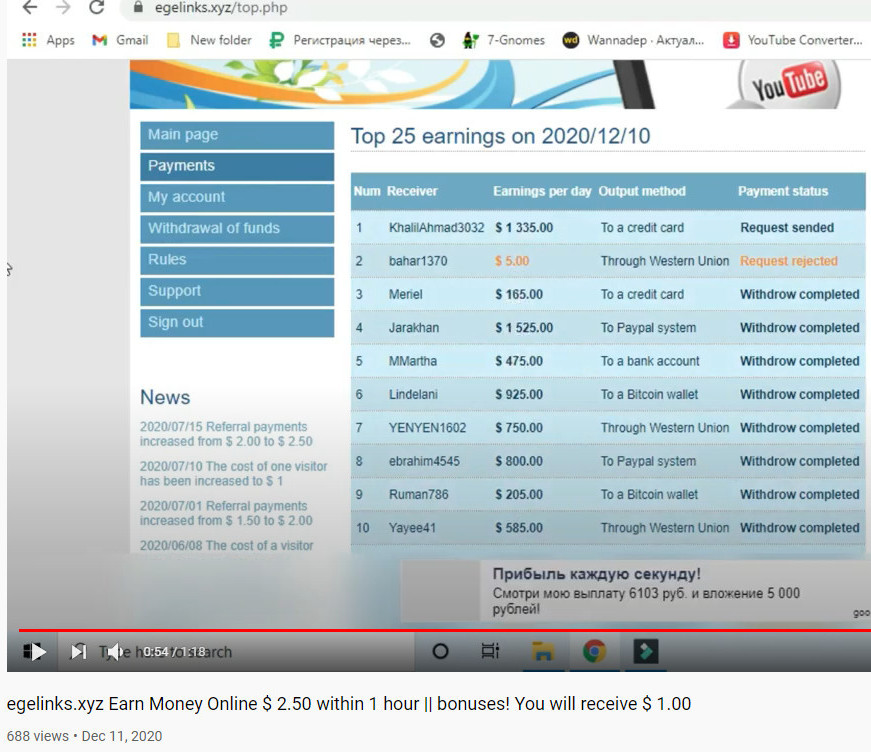 Now, Here is a screen shot of the home page from December 30, 2020 showing the "top earners" on December 30, 2020.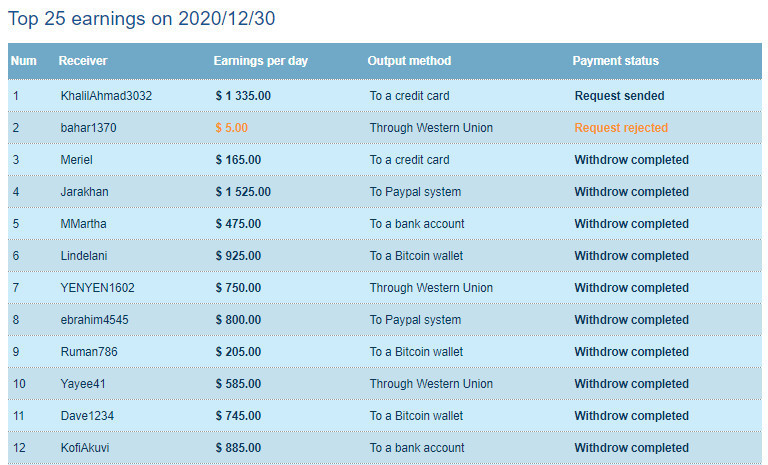 They are the identical. Of course, you can't always look at all angles to make such a comparison. That's why I'm here to be a slueth for you. 😉
So Why Do They Do It?
There are a variety of reasons why scammers do what they do, and the answer isn't always money.
In this case, they are simply data mining, or phishing. They get little bits of data from registrants, and that can be potentially traded on the dark web.
(Try not to fret too much if this might be you. I'm sure you always use safe internet practices such as website specific passwords, right?)
The Bottom Line
Well, the truth is, I began this post with the bottom line – avoid this one like the plague.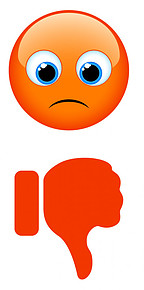 My hope is you will take some of the "things to look for" from this site and apply them as you see other sites that are similar. There are a number of them out there, and new ones pop up all the time.
Learn to spot actual scams and beware.
OF INTEREST: It is interesting that we can quickly seek and get all kinds of traffic to this scam, but don't work as hard to get eyeballs on our honest opportunities.